Mounting school closures...
Looming uncertainty due to the COVID pandemic...
Decline of Christianity...
Increased competition from charter and home schools...
Change in demographics...
"The Five Threats to Private School Enrollment (and How to Overcome Them)"
In this complimentary online briefing, you'll get answers to questions like:
How do we convince parents of the VALUE of private faith-based schools?
What are today's parents DEMANDING from their schools?
How can you successfully compete with free charter schools or low-cost homeschooling options?
How do you attract and retain families in the midst of the COVID pandemic?
The 2021 Enrollment season is upon us...
Book your personalized executive briefing today!
Join me today for a live, interactive session, jam-packed with valuable insights and actionable takeaways to maximize your enrollment and keep your school on top of current market trends.
Cheers!
- Mitchell.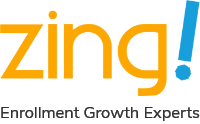 So many schools struggle to hit their enrollment goals because their current marketing strategy is just not producing results.
At Zing, we use a proven system, backed by thousands of success stories, to help private schools attract more parents and grow their enrollment.
Stop wasting time and money on marketing that doesn't work and instead experience the thrill of seeing your school grow and thrive!